---
Zara Diniz is a Toronto-based artist recognized for her work as a painter and muralist. Ever since picking up a paintbrush at the age of five, and leading up to and beyond her professional training as an artist at the Ontario College of Art & Design, Zara has been fascinated with the physical properties of paint, the timeliness of the painting process, and her ability to manipulate both in her quest to reproduce the familiar and the recognizable within a painterly matrix.
She is the owner of Maluca Studios, founded in 2007, a company that offers artistic services and creates murals. She believes that public art can create a positive climate that is empowering and celebrates diversity within the community. In 2007 Zara was invited to paint a 7 ft by 100 ft mural in Rochina, Rio De Janeiro, Brazil that expressed the communities dire need for physical and health education in public facilities. In 2015, the founder Terry Costa personally invited Zara to the Azores Fringe Festival, to paint a 6ft by 135 ft wall mural celebrating "Atlantean" myths and culture. Recently, in April 2016, Zara was commissioned by The First Canadian Place in Toronto to create a public art piece titled "Eye am Responsible" using 313 recycled coffee pods for Earth Week which was displayed in the main foyer. With over 10 years of mural experience, she has designed and created public art, working directly with charitable and non-profit organizations, secondary and post-secondary institutions, social awareness programs, theatre companies, media events – as

well as hundreds of individuals throughout North America, Europe, Brazil and China.
Her work is deeply influenced by her travels around the world, which have introduced her to new environments and ways of living. These visits have invariably provided her with a robust memory-collection of individuals, scenes, colours, and patterns, which she incorporates ever-so-subtly into her paintings. Indeed, by playing with space and perception, through a combination of classical realism and painterly expressionism, Zara's works often have a fleeting, surrealist quality, as figures emerge from and simultaneously fade into their painterly surroundings.
She hopes to bring back an appreciation for the beauty of form and colour, and their fundamental role in the reproduction and recreation of emotional and experiential associations in the mind.
Zara can be reached at
info@zaradiniz.com
photo cred Roy Fung
---
---
Powered by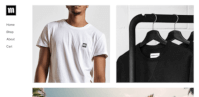 Create your own unique website with customizable templates.